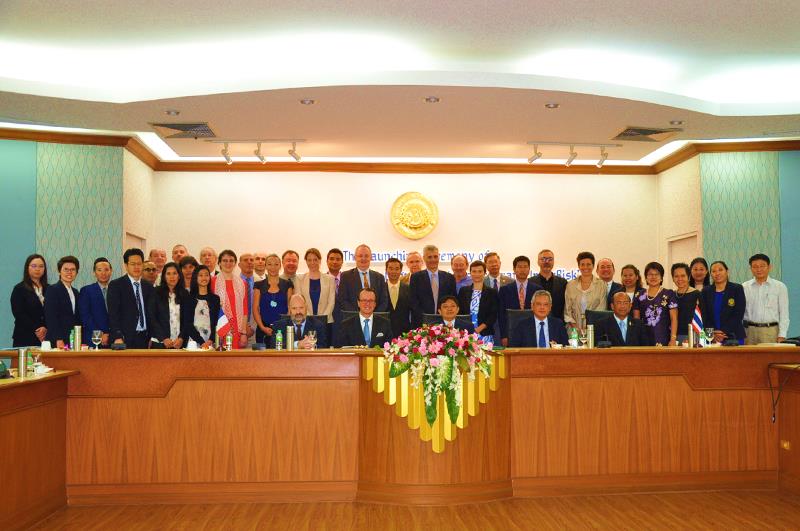 The launching ceremony of InterRisk Master's Degree has been held on 12th of January 2016 in Kasetsart University. The InterRisk Master's program provides an advanced academic training in evaluation and management of health risks considering the One Health approach. The program is coordinated by CIRAD and will provide a double degree from Kasetsart University (Thailand) and Toulouse Veterinary School (France).
We have been honoured by the presence of distinguished guests such as his Excellency the Ambassador of France in Bangkok (Mr Gilles GARACHON), the Minister Counsellor for health and food safety of the Delegation of the European Union in Thailand (Mr Patrick Deboyser), the Director of SEARCA (Mr Gil Sanguiguit) and the Acting President of Kasetsart University (Professor Bancha KWANYUEN).
A presentation on Education and Research Cooperation between Kasetsart University and French Higher Education Institutions & Research Organizations was given by the KU Vice President for planning and development (Professor Sornprach THANISAWANYANGKURA) and the correspondent of the CIRAD office (Dr Damien JOURDAIN). It highlighted the long-lasting collaboration between Thai and French Institutions. The Dean of Toulouse Veterinary School (Mrs Isabelle CHMITELIN)   did as well a presentation about the specificity of the veterinary curriculum in France.
The Master's program was presented by the coordinators of the Master's degree in Kasetsart University (Professor Phitsanu TULYAKUL) and in CIRAD (Dr Flavie GOUTARD).