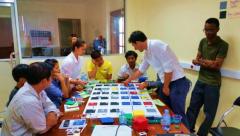 A role playing game is currently under development in the framework of the Encephalites case study, and has been pre-tested during a workshop facilitated by Dr. Panomsak Promburon (CMU/KU) and Dr. Raphael Duboz (CIRAD/IPC) at the Pasteur Institute in Cambodia between the 25th and the 29th of April involving participants from the Pasteur Institute, NAVRI, and Vets Without Borders.
The Workshop allows us to start the training of the facilitators and determine the parameters of the game.
The game is about farmers' choices, in link with encephalitis risks factors, in the framework of rural farming systems in Cambodia. The game is developed to simulate farmers' activities during the rainy and the dry season and involving several parameters such as cropping system, allocation of labor force, presence of the bats and mosquitoes etc.
For the villagers, the purpose is very simple, it's about playing their own role and win the game by increasing their income while avoiding encephalitis outbreak.
For the scientists, there is a double purpose. The first purpose is to raise awareness of the villagers about encephalitis risk factors and prevention measures, the game being used as a prevention and communication tool. The second purpose is to collect some data about the villagers' behavior and how they perceive diseases and environmental risks in order to improve epidemiological models.
Following the first Cambodian experimentation, role playing games should be developed in the framework of the other case studies in the coming months.
The role playing game dynamic within ComAcross s is elaborated on a previous experience involving CIRAD in West Africa: the role playing game TerriStories© has been developed by CIRAD team in the framework of the Self-Land Policies methodology. For more information about TerriStories©, read: D'Aquino P. 2015 Participatory development of collective rules for natural resource and land management: Lasting effects from the local to the national level, Perspective 33.  Or watch a movie about TerriStories© HERE.