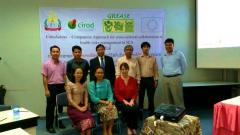 NUoL is coordinating the setting up of a governmental platform involving 6 ministries. The role of this platform is:
(1) to manage the communication on food borne zoonoses, raising awareness of local stakeholders and setting up prevention measures at different levels.
(2) to supervise the work of several technical working groups, to frame their actions (environmental monitoring, epidemiological surveys, communication and lobbying, etc).
This platform is also collaborating with the TDR Laboratory of Khon Kaen University for the training of the health workers (veterinaries) and Health volunteers at local level. The next platform meeting will be organized end of June in Vientiane.
In parallel the fifth field work is ongoing, notably in the Savannakhet Province, Laos.