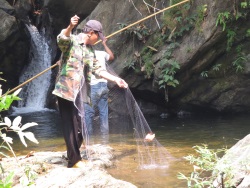 The  CIRAD and CNRS, in collaboration with the Centre Merieux of Laos, National Institute of Health Laos and Pasteur Institute of Laos, are organizing a "Water-related diseases workshop", which will be held from 15th  to 16th  of February 2016 in Vientiane, Lao PDR.
This workshop, in the framework of FP7 European SEA-EU-NET programme, will merge 3 topics: Health, Water-Management and Food Safety. The main themes/sessions of the workshop will be organized by important diseases (Leptospirosis, Cryptosporidium, vector-borne, Opistorchis and other flukes, ...) and by topics (water management, biodiversity, climate change, antimicrobial resistance, ...),in order to promote a multi-sectoral and interdisciplinary approach.
This expert workshop will gather about 40 participants and will have the following objectives:
To share information (programs and projects) and scientific knowledge on water-related diseases.
To stimulate EU-SEA cooperation by promoting exchanges between EU and ASEAN experts, and build up coordinated international projects
To develop networking on water related diseases
For more information, please check the GREASE website HERE.