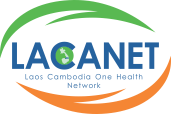 You are here
What are the Project's Activities?
As part of our efforts to increase field surveillance capacity for regional priority pathogens, but also at national, provincial and district level, we are training 100% of NAHL and NAHPRI Outbreak Mobile Response Unit staff members and at least 2 provincial and district staff from 100% of provinces where market disease hotspots have been identified.
NAHPRI staff members will be trained at IPC on laboratory and sampling techniques, while NAHL staff members will be trained by LOMWRU. NAHPRI and NAHL will also receive a 2-day training course on biosafety. By year 4, both NAHPRI and NAHL will be able to test pathogens in their own laboratories. 
We initiated the development of a Lao PDR-Cambodia One Health Network by building relationships and connections between livestock, wildlife and human health ministries and laboratories in Lao PDR and Cambodia. 
We strive to improve these relationships through collaborative research projects to study the effect of anthropogenic activities on infectious disease prevalence and emergence.