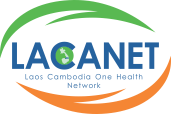 You are here
Field surveillance Training
Capacitating national veterinary laboratories
As part of the LACANET One Health project's endeavour to develop national veterinary laboratory capacities, two national animal health laboratories (NAHPRI and NAHL) are twinned with two human health laboratories (IPC and LOMWRU), that provide SOPs training and help the two national veterinary laboratories to adopt diagnostic methods able to detect regionally important zoonotic pathogens. The Institut Pasteur du Cambodge collaborates with the Cambodian National Veterinary Research Institute to analyse samples from the land-use change study, while the Lao-Oxford-Mahosot-Wellcome Trust Research Unit collaborates with the Lao National Animal Health Laboratory to analyse samples and information obtained from the wildlife market study. Trainings also include improving capacities in biosafety and general laboratory practices.
Building field surveillance capacity
Field research capacities of both the Cambodia National Veterinary Research Institute and the Lao National Animal Health Laboratory are also being developed through field research and training provided by the Wildlife Conservation Society, in both Cambodia and Lao P.D.R. To make the LACANET One Health project's research capacity building even more sustainable, the Wildlife Conservation Society has also recruited nine students from the Cambodian Royal University of Agriculture and Royal University of Phnom Penh, who take part in the above-mentioned field research and training.