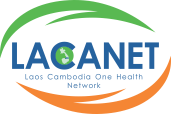 You are here
Strategic Research
Wildlife diseases surveillance
The LACANET One Health project is closely working with national authorities, as well as local zoos and animal rescue centres, to conduct investigations of wildlife disease events and outbreaks with national wildlife authorities. While WCS is striving to facilitate sample collections and investigations into wildlife diseases in Cambodia and Lao P.D.R, IPC and LOMWRU are working with Cambodian and Lao national laboratories to identify pathogens associated to wildlife deaths and outbreaks.
Thanks to numerous trainings provided by WCS to local Cambodian and Lao local rangers, forestry administrators and national animal health institutions on how to report wildlife mortalities, safely collect carcasses, make sketches and undertake necropsies, to precisely report mortalities events, the LACANET One Health project is now provided with a more reliable way of monitoring wildlife diseases. When confiscated within protected areas or taken to zoos and rescue centres, dead wildlife animals are sampled on the spot. On the Lao side, NAHL is in charge of receiving dead animals' carcasses and investigating cause of deaths. In Cambodia, WCS normally receive carcasses to investigate animals' deaths, while NAHPRI conducts necropsies.
Wildlife market study
The first stage of the wildlife market study is directed at drawing a parallel between wildlife hunting in Lao P.D.R. and the amount of wildlife on sale on Lao markets, with a special focus on the pathogens studied as part of the LACANET One Health Project. The 11 studied markets were selected according to exploratory study reports and LACANET One Health project's research criteria. They consist of 8 markets where high amounts of wildlife are sold and 3 markets located nearby protected areas. The second stage of the study will be based on data collected and structured over the first stage, to focus on one or two pathogens only, a few vectors, and incorporate human and domestic animal aspects.
Land-use change study
Focusing on Preah Vihear, Mondulkiri and Kampong Thom provinces in Cambodia, the land-use change study consists of investigating and drawing analogies between the present vegetation, the type and number of caught animals and mosquitoes and the prevalence of pathogens studied as part of the LACANET One Health project.  A total of 10 sites were selected to conduct this study throughout the 4-year LACANET One Health project: 5 sites are illustrative of family scale forest clearings, while 5 others represent larger scale clearings in economic land concessions.
This study was made possible after several meetings took place between all partners (IPC, NAHPRI and WCS) for the discussion of the study design, sample and data collection. Further discussions followed between LACANET One Health project partners and economic land concession owners in January-February 2015, with the collaboration of local Forestry Administration (FA) and Ministry of Environment officials, and enabled the project to gain the approval and support of a number of economic land concessions in all three provinces, to eventually set up capacity development for joint research and surveillance. The first week of field work to trial sampling and data collection methods took place in April 2015 with staff from WCS, IPC, NAHPRI, FA, FA/Phnom Tamao.