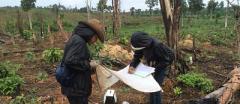 Researchers and staff from WCS and IPC have studied a total of 5 sites, located in Preah Vihear, Kompong Thom and Mondulkiri provinces, during what has constituted the 2015 rainy season field studies and spanned from 20th April until 18th September 2015. Each site was studied for a period of 12 days and consisted of analysing the effects of land-use change on disease emergence.
The correlation was made possible by dividing each studied site into three zones: intact forest, ongoing disturbance and totally cleared forest where first year rubber or cassava plantations can now be found. Wildlife, vector and environmental samples were then collected within each of the site's zones, and searched for LACANET One Health project's target pathogens, namely: JEV, scrub/murine typhus, leptospirosis, arenaviruses, hantaviruses and coronaviruses.
The season's field studies was fruitful, as more than 400 small mammals were captured, sampled and tagged before they were released. Samplings were characterized by a recapture rate of less than 50% and showed differences in rodent density and diversity between zones. Field teams also captured 463 mosquitoes, flagged and collected several hundreds of ticks and chigger mites from rodents.
This 5-month intensive field work was also an opportunity to strengthen capacity building from site selection to data analysis. As a result, 2 Forestry Administration staff, 3 IPC staff, 2 NaVRI staff as well as 6 students from the Royal University of Agriculture and the Royal University of Phnom Penh have been trained in site selection, study design, land-use study protocols, first-aid and field techniques prior and throughout their work in the field. Collected data are now being analysed by IPC, WCS and NaVRI teams, where IPC staff are also training the NaVRI team in molecular biology and RT-PCR techniques. On the Lao side, data is being analysed at LOMWRU, by LOMWRU and NAHL teams, where LOMWRU staff have also trained IPC and NAHL staff in leptospiral culture.
This key season field studies was made possible thanks the financial support of the European Union.