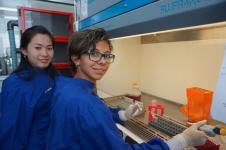 Every year, WCS selects between six and eight Cambodian students or freshly graduated scientists to take part in the LACANET project's wet and/or dry season field studies and receive training in field collection techniques.
This year, IPC is also welcoming two trainee students in its laboratories:
Ms. Jill-Léa Ramassamy is a student from Toulouse Veterinary School and a Public Health Master's student from Pasteur-Cnam School in Paris. She will train at IPC from 16th May until 31st October 2016, to increase her knowledge in the field of epidemiology and ecology of rodent-borne diseases that can infect humans. Not only she will test pathogens in IPC's laboratories, but she will join the LACANET team in the field throughout this year's wet season.
Ms. Heng Huy Sreang is a graduate from the Cambodian University of Health Sciences. She is now preparing a specialisation as a third-year Medical Biology student from the same university, while acting as pharmacist at Central Medical Store. By training at IPC from 1st May until 31st July 2016, she intends to learn more about testing wildlife animals for zoonotic pathogens.
Building capacity to survey, diagnose and understand the drivers of emerging diseases at the human-animal-environment interfaces is one of the main objectives of the LACANET project; and the LACANET project team is committed to training today's and tomorrow's One Health researchers.
All of these trainings are made possible thanks to the financial support of the European Union.