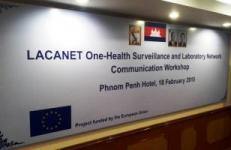 On 18th February 2014, the One Health LACANET project held a communication workshop in Phnom Penh. The event gathered the Institut Pasteur du Cambodge (IPC), the Wildlife Conservation Society in Cambodia (WCS), the National Veterinary Research Institute (NaVRI) and other key players in the One Health system, around the task of assessing what routine mechanisms of coordination already existed across the human, animal and environmental sectors, and identify where there may gaps that the LACANET project could attempt to fill.
The objective of this workshop was to gain a better understanding of how One Health communication works in Cambodia, and how the LACANET project can support and strengthen those coordination mechanisms.
Participants were very positive about the usefulness of the workshop, especially the practical application of the simulation, which consisted in generating a list of proposed procedures for improved communication and collaboration among the One Health sectors, following the detection of a mystery virus at the LACANET project sites loosely based on the Nipah virus.