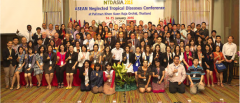 The second ASEAN Neglected Tropical Diseases (NTD) conferences took place at the Pullman Raja Orchid Khon Kaen in Thailand, with pre-conference workshops from the 11th to the 13th of January, and conferences the 14-15th of January 2016. It was organized by the Tropical Diseases and Research Laboratory (TDRL) of Khon Kaen University and involving ComAcross among co-organizing partners.
The pre-conferences workshops, partly organized by the ComAcross Project, addressed different issues of importance regarding One Health implementation among which modelling, Health GIS and remote sensing application for NTD. Dr P. Promburom, representing the ComAcross project was teaching the modelling approach.
The conferences consisted of 41 oral presentations and 25 poster presentations from international and local experts. The first day included neglected tropical diseases in ASEAN nations as well as the interdisciplinary research on liver fluke biology, pathogenesis and diagnosis. The second day consisted of updates regarding NTDs in Asian countries and a panel symposium session on integrated control using Interdisciplinary approaches was designed as the final highlight all the oral presentations. Poster sessions on related research topics ran simultaneously for the entirety of the conference.
There were a total of 150 participants from 20 countries at the meeting. The 20 countries included: Australia, Bangladesh, Cambodia, China, France, Indonesia, Iran, Japan, Lao PDR, Malaysia, Myanmar, Nepal, Norway, Philippines, Singapore, South Korea, Sri Lanka, Thailand, USA, and Vietnam.
During the conferences, 3 participants representing the ComAcross Project made a presentation:
Dr. Vannaphone Phouthana, National University Of Laos, Lao Pdr, presented the Lao Long-term Study on Parasitic Foodborne Diseases in Southern Part of Laos. It is part of the case study implemented by ComAcross project to enhance the One Health Approach and set up an interdisciplinary framework trough Participatory Epidemiology and Participatory One Health modeling. This case study has been perceived as a good example to develop team work and the One Health modeling approach.
Dr. Panomsak Promburom, Chiang Mai University, Thailand, made a presentation in the session dedicated to "Transdisciplinary/ One Health & Ecohealth" about "One Health: Multi-, Inter-, and Trans- disciplinary Efforts", including the differences between Inter and Trans disciplinary and the ComAcross transdisciplinary efforts.
Dr. Fred Unger, ILRI, Hanoi, Vietnam, made also a presentation in the session dedicated to "Transdisciplinary/ One Health & Ecohealth" about "Food Safety along Informal Pork Market Chains in Vietnam –Experiences from an Integrated Research Team", explaining, among other things, that they are looking for an integrated approach with interdisciplinary teams.
For more information about the NTD ASIA conferences, please find the summary Report HERE.
For more information about ComAcross Project, please check our website: www.onehealthsea.org/comacross.
To be informed every months about the project subscribe to our newsletter HERE.
To access to our exchange platform, subscribe HERE.