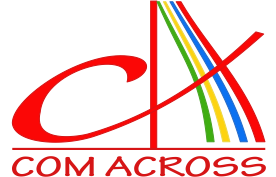 You are here
ComAcross Activities
Objective 1: To set up a Community of Practice   
This activity is about setting up a Community of Practice through case study approach, capacity building and promoting Participatory appraoches such as Participatory One Health Modelling and Participatory Epidemiology. This includes activities such as epidemiological health mentoring, stakeholders and cross-sectorial risk mapping etc. 
The project has selected three "model diseases" in the region that will operate as case studies to foster cross-sectorial collaboration at different levels. The implementation of these case studies is the common thread guiding partners and stakeholders' collaboration. It also allows us to identify gaps in technical skills and to organize the corresponding trainings.                                                           
This case study addresses Health impacts of waste and water resources management at provincial and municipality levels in Thailand (Ayutthaya). It's involving local authorities, communities and provincial authorities as well as academic staff.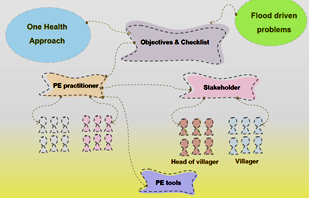 Our activities aim at:
Developing Participatory Epidemiology skills for prioritization, field work and problems identification. The purpose is to identify Environmental Health issues in link with livelihoods (notably agriculture and livestock farming) and to map the institutional local context.
Implementing participatory modelling (ComMod method) in order to improve the coordination between actors and sectors (Agriculture/Health/Environment) and to provide scientific evidences regarding health risk linked to waste and water management. 
This case study is about the impact of Nipah Virus (NiV) and Japanese Encephalitis Virus (JEV) management at a national and provincial and municipal level in Cambodia. It's involving national and local authorities,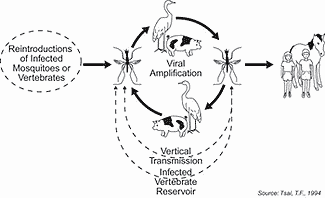 communities and provincial authorities as well as academic staff.
            Our activities aim at:
Developing Epidemiology skills for field work and problems identification. The purpose is to identify the cycle and transmission path of both viruses.
Implementing participatory modelling and strengthening the interactions among actors and sectors, setting up cross-sectorial collaboration and capacity building for a better understanding (knowledge sharing) and management of the encephalitis (including prevention measures and awareness raising).
This case study addresses cross-sectoral management of zoonotic parasitic diseases at provincial and district level in Southern Laos. It's involving local authorities, communities, provincial authorities and academic staff, in close collaboration with national government officers.
Our activities aim at:
Better understand parasitic foodborne diseases epidemiology and risk perception at a district level in small holder and family livestock farming systems.
Contribute to set-up a cross-sectoral collaboration at provincial level.
Objective 2: Training (To improve vocational competencies)    
This activity is about "filling the gaps" in target groups' skills, through professional training and capacity building: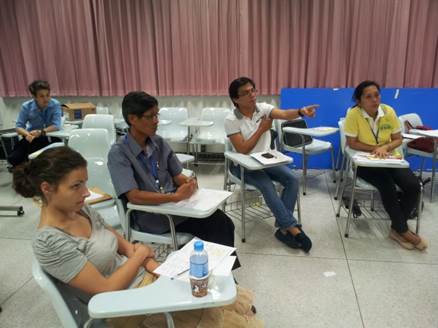 Biotech trainings: diagnostic tools & bar coding, these trainings will be organised with BioZoonoSEA biotechnological platform (research and training for epidemiological studies of parasitic zoonotic diseases, from field to laboratory, reservoir and vector studies)

Trainings promoting systems thinking: data analysis and management, GIS and risk mapping, participatory epidemiology & Participatory Rural Analysis (socioeconomics, wildlife an natural resources,…).
Objective 3: To develop an Academic Curriculum through InterRisk
InterRisk is a new international Master's programme which trains future risk managers using active pedagogical methods; combining lectures and real cases problem-solving, field visits (such as biosecurity audits on livestock farms), laboratory experiments (for disease diagnostics) and innovative computer-based tools, which provide genuine practical experience. Courses are currently running in suitable facilities at the University of Kasetsart, Bangkok, Thailand. This offers students the unique opportunity to be trained 'in situ' in South East Asia.
For more information about ComAcross project, the case studies or to have access to our exchange platform, please apply to join us: JOIN US