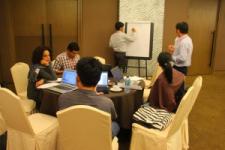 Listed below are some coming One Health and ComAcross Events, with workshops, trainings and meetings.
 One Health Events
GREASE Network Annual Meeting (Scientific seminar and Steering Committee) – 25th to 28th May 2016 in Yogyakarta, Indonesia.
ComAcross Events
GIS training- Introduction to QGIS - 15th to 19th February 2016, Pasteur Institute in Cambodia, Phnom Penh, Cambodia.
Training SNA (Social network Analysis advanced) – 24th to 26th March 2016, Hanoï, Vietnam.
Workshop training: Companion modelling and Role playing game – March or April 2016, Cambodia and Laos.
GIS and Multi-Criteria Decision Analysis (MCDA) method for health risk mapping – 9th to 13th May 2016 (to be confirmed), Kasetsart University, Thailand.
Initiation to social Science and Participatory approach for Health risk management- June 2016, Kasetsart University, Bangkok, Thailand.
For more information about ComAcross Project, please check our website: www.onehealthsea.org/comacross.
To be informed every months about the project subscribe to our newsletter HERE.
To access to our exchange platform, subscribe HERE.
Or contact us in the rubric 'Contact ComAcross'.